I just recently found out about "What I Ate Wednesday" hosted by Jenn at
Peas and Crayons
and I figured, what the heck? So like this post's title states, I've jumped on the bandwagon.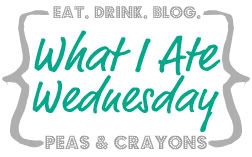 I got to work from home yesterday, a.k.a. stay in my PJ's all day and be super productive. I'm always so much more focused when I'm by myself. All my co-workers and I are pretty social and outgoing, so it can be hard not to get caught up in all the chatter.
Anyways, since I was home all day it was easy to snaps some photos of "what I ate" to share with you all. If you see anything that looks good to you, some of the recipes are already posted and the others will be coming soon! So stay tuned.
Breakfast:
Oatmeal. I don't remember the last time I didn't have oatmeal for breakfast. I love it!
How's that for a name?
Morning snack:
Sooo good.
And I get veggies in my belly without even knowing it...
...well I guess I did know cause I'm the one that made the smoothie...
but you know what I mean.
Lunch:
A random home-made pizza concoction.
Topped with tomatoes, mushrooms, spinach and seasonings.
And...
...my mom's two ingredient recipe for cinnamon apples.
Bet you can't guess what the ingredients are.
Dinner:
I picked up Brett from the airport right before I had to head to my Tuesday night class.
We ended up stopping at the Falafel Cafe.
I got Baba Ganoush and pita.
So delicious.
No pic. Sorry.
Dessert:
Yummmmm.
Welp, I guess that's all!