Welp. Brett and I are yet again...on the road. In Texas that is. This past weekend we visited with Brett's family in Houston. During the week we'll be in College Station for work and this upcoming weekend we'll be camping with friends in Dallas. I've never been to Texas before, so it's fun that I'll be able to see three different cities during our time in this large state.
On a side note, who knew you could find massive statues of president's heads in Texas?
Good thing Brett wasn't jealous.
Aside from seeing random statues, this past weekend with family was so good. We got to hangout with our two identical twin nephews and our four year old niece and spend time with Brett's immediate family. We took the kids to the zoo, checked out a little craft market in the neighborhood, and played corn hole and farkle after the kids went to bed. I got to get in a few morning runs too. But it's amazing how tiring just two days with three little chillun' can be! I'm in awe of my sister-in-law and brother-in-law and their energy and patience with those precious kids. Amazing parents right there.
Eating a Vegan Diet with a Meat-Loving Family:
I wasn't sure how eating vegan would go while staying with Brett's meat loving family. The last time we were together - before I went vegan - we ate uh-mazing barbecue ribs, brats, steak and Asian lettuce wraps with pork. My in-laws are spectacular cooks and I always look forward to the meals they'll prepare for our family gatherings. But this trip was the first time we'd be spending time together since I've "gone vegan". And not only that, Brett's dad was doing a special diet and the kids are pretty specific in the foods they'll eat. My sister-in-law had her work cut out for her planning meals for such a high-maintenance-eating-family!
But, it turned out great. They were so accommodating and every meal was well thought through so that everyone could eat together. They bought me black bean burgers for our grill-out night and made a separate pot of soup without meat for me the second night. My sister-in-law even had dairy-free desserts ready for us the night we arrived.
I was so encouraged to know that it is possible to eat vegan while with family. And not just eat, but eat WELL. It just takes a little bit of planning and communication about what is or is not vegan. We'll see how thanksgiving with my family goes next month!
So if you're a new vegan out there and aren't sure how eating in a group or family environment will go, know that it's possible...and worth it. I felt great all weekend!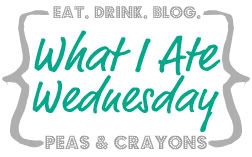 What I Ate Wednesday: On the Road
One thing I don't like about traveling is that I can't cook my own meals or experiment with new ideas. If you've read my blog at all recently, you'll know that I'm on an intense oatmeal kick and have been experimenting with all kinds of combinations and flavors recently. Since we left for Texas I've even had random recipe ideas pop into my head for my morning oats and it's killing me that I can try them out.
The good news is that my inability to eat oatmeal this week lead to me having yogurt for the first time since I went vegan: 3 months! All the groceries stores by my house in Florida don't sell non-dairy yogurt - or if they do it's $3 a serving. We found a store by our hotel here in Texas that sells non-dairy yogurt that's affordable, and since we're on Perdiem for the week, I couldn't pass up the opportunity. Here's some iPhone pics of my eats for a random day "on the road". (Check out
Jenn's
blog for other people's Wednesday eats!)
Breakfast:
I tried out So Delicious Chocolate yogurt with sliced banana, raspberries and blueberry flax granola.
Yes, I'm eating out of a Styrofoam to-go container. Being a traveling vegan, I've learned to improvise.
It was an awesome way to eat yogurt for the first time in so long!
When Brett and I are traveling we love to go to Starbucks first thing in the morning to read and get work done. My drink of choice is a decaf Americano. Lovely.
Snacks:
My sister-in-law got me this snack to try out: 180 Snack: Blueberry Pomegranate Trail Mix Crunch.
It was delicious and a great snack to hold me over until lunch.
Afternoon drink: Cappuccino with soy milk at a popular college coffee shop in college station.
Lunch: (no pic)
A veggie burrito at Freebirds World Burrito with mixed greens, salsa, tomatoes, roasted veggies, cilantro, black beans and guacamole. Yummmm.
Dinner:
Snacks in the hotel room.
Papaya slices, a pink lady apple and a Clif bar.
Sometimes when I'm traveling I get sick of eating out 2-3 times a day... even if it means I'm stuck with a Clif bar for dinner. Anybody else?
And that's it! While I sometimes have to combine random snack foods to make a "meal" on days that I'm traveling, I'm always able to find something vegan and delicious.
What are you favorite "on the road" snacks?