After being in Tennessee for a week, traveling long hours in a car, eating too many pretzels and not getting enough sleep it was so nice to have a day off of work on Monday to rest, recuperate and exert some energy outside. I slept in until 8:30 (I know, I'm a wild one) and started the morning with an orange and a bowl of oats with chia seeds, ground flax and a dollop of almond butter. It's hard to not have some kind of nut butter with my oatmeal these days.
After digesting I went for a 7 mile run in the beautiful Florida air. It felt so good to run long and slow after
being in the car for 19 hours on Sunday
. Afterwards, I refueled with some chocolate soy milk from Trader Joe's and stretched.
For lunch I made a
curry quiona
wrap with hummus and spinach in a whole wheat pita pocket, also from TJ's.
I love the ingredients in these pita pockets:
I put peas and raisins in my
Curry Quinoa
and it's delicious. Sometimes I'll just put it on a bed of spinach for a salad.
For an afternoon snack I had an apple with "peanut butter" made from peanut flour and water...
...and an orange. We have a ton of apples and oranges in our house so I felt like I needed to do my part in eating them. Don't mind if I do.
For dinner I cleaned out some of the frozen veggies that have been in our freezer since before Brett and I got married (Yikes!). I made some brown rice and simmered the veggies with this Green Curry Sauce from TJ's.
I also made some breaded baked tofu to go with it and the whole meal was delicious and came together so quickly!
I was still pretty exhausted from such a long day driving on Sunday so Brett and I just went on a walk around the UCF campus and went to bed early.
There you have it. Monday's eats!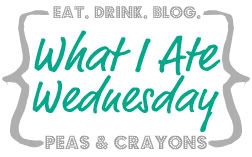 Check out other people's daily eats over at
Peas and Crayons
for some creative ideas!